Storage in 8045 Zürich Binz
More Storage Space Means More Quality of Life. Rent a Sellf Storage Unit in Zurich Binz for More Space in Your Home!
Personal consulting
Available now, flexible durations
All-round service
Parking lot
If you're going through a big life change, like a move, and find that over the years you have accumulated files, tools, clothing, or books that you would like to store elsewhere, MyPlace has the solution you are looking for. At our location, 900 secure, clean, and climate-controlled units are waiting to provide a new home for your belongings.
Self Storage on Grubenstrasse: These Are the Benefits
Simply book one of our storage units online or on-site at the Zurich Binz location and benefit from the following advantages:
Extra unit insurance: We do everything to protect your belongings and shield them from prying eyes. Our affordable unit insurance additionally covers damages from fire, burglary, vandalism, water damage, and natural disasters.
Compact boxes: Our compact 1 m³ boxes are the perfect storage space if you only need to store a few small items.
Spacious loading area: Our generous loading allows you to quickly and easily load and unload your belongings without wasting unnecessary time and energy.
Barrier-free transport: Our location on Grubenstrasse is equipped with short and barrier-free transport routes, making it easy and safe for customers with mobility restrictions to store their belongings.
Cargo lifts: Two spacious cargo lifts ensure fast and comfortable transport, facilitating the loading and unloading of items. Even large and unwieldy items can be stored in no time.
Self Storage Costs & Rental Period
Rental is at a fixed price and is billed every four weeks. The costs of our storage compartments vary according to size and availability. Here you will find a general overview of our prices at the Zürich Binz location: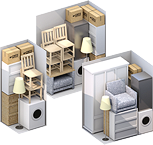 Small, 1-3 m2
from 12,00 CHF per week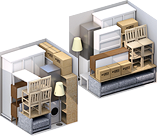 Medium, 3-5 m2
from 30,05 CHF per week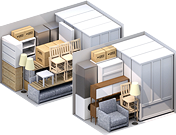 Large, 5-10 m2
from 47,55 CHF per week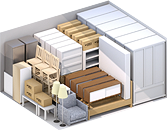 XL, 10-20 m2
from 115,65 CHF per week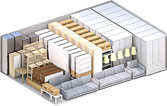 XXL, 20-50 m2
from 212,30 CHF per week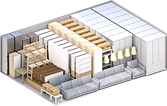 XXXL, >50 m2 currently unavailable
Rental can start at any time. The minimum term is 2 weeks, the remaining term of the lease can be customized to your needs and can be terminated on a weekly basis. We at MyPlace SelfStorage greatly value long-term relationships with our customers and reward the loyalty of our long-term tenants with a discount of -15 % on the annual rent (in case of prepayment).
A detailed list of available warehouse sizes and costs can be found in the next step of our easy booking process.
How to Reach Our Storage Facility in Zurich Binz
Thanks to its convenient location at Grubenstrasse 28, our facility is easily accessible by both train and bus. The following public transport options will bring you to us:
S10 train line (stop: Zurich Binz) followed by a 5-minute walk.
S4 train line (stop: Zurich Giesshübel) followed by a 7-minute walk.
Bus line 76 (stop: Zurich Binz-Center) followed by a 3-minute walk.
You can just as easily reach us by car or van. We recommend the following routes:
From Zurich City (Hauptbahnhof) via Gessnerallee, Selnaustrasse, Sihlhölzlistrasse, and Manessestrasse to Manesseplatz, continue onto Uetlibergstrasse. By turning right after the level crossing, you will reach Grubenstrasse.
From Chur/Luzern, take the Zurich-Brunau highway exit and Allmendstrasse. Then turn left at the traffic light into Giesshübelstrasse and right into Uetlibergstrasse, from where you can reach Grubenstrasse by making a left turn.
At our Zurich Binz location, parking is free. Without the stress of having to look for a parking spot, storage becomes all the more convenient.
Opening Hours
The MyPlace SelfStorage facility in Zurich Binz is open every day from 06:00 to 22:00.
You can enter the building using your personal access code, which you can set during the booking process.
Our team is available Monday to Friday from 08:30 to 17:30 and on Saturdays from 09:00 to 13:00 in person, by phone, or via email.
Any Questions?
For example: Which storage size is right for the amount of items I want to store? Our convenient storage space calculator can help you find the right unit for your needs. Alternatively, you can contact our experienced team by phone or in person to discuss proper storage methods and our extensive range of additional services.
Our services in Zürich Binz
Satisfied customers in Zürich Binz
from 242 reviews
Danke. So aufmerksamer, freundlicher und zuvorkommenser Support. Geduldig und hilfsbereit bei Fragen, freundliche Erinnerungen, wenn etwas vergessen wurde, und immer sehr menschlich. Empfehle ich sehr gerne weiter.
Show all reviews
Further locations near Zürich Binz