Self Storage in Zürich Oerlikon
Enjoy More Space in Your Home or Business - Rent a Self Storage Unit in Zurich Oerlikon!
Personal consulting
Available now, flexible durations
All-round service
Parking lot
Do you suddenly need more room to make boxes and furniture fit during or after a move? Or more storage space for your business to thrive? Our location in Zurich Oerlikon, with around 700 storage units, is the perfect place for your belongings - safe, clean, and climate-controlled.
Unlocking the Benefits of MyPlace Storage
Simply book one of our storage units online or on-site at our Zurich Oerlikon location and benefit from the following advantages:
Compact boxes: Our practical 1 m³ storage boxes are the ideal, affordable solution for small storage quantities. 
Spacious loading area: At our Zurich Oerlikon location, you have plenty of space to load and unload your belongings, so you don't have to perform complicated transport maneuvers but can quickly and easily store your stored goods.
Well-lit, short transport routes: At our Zurich Oerlikon location, well-lit and short transport routes ensure convenient and safe transport on all levels.
Cargo elevator & car ramps: For easy access and convenient use of your storage unit, this location provides a cargo elevator as well as car entry and exit ramps to all levels.
Self Storage Costs & Rental Period
Rental is at a fixed price and is billed every four weeks. The costs of our storage compartments vary according to size and availability. Here you will find a general overview of our prices at the Zürich Oerlikon location: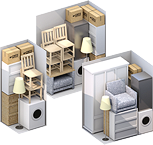 Small, 1-3 m2
from 11,50 CHF per week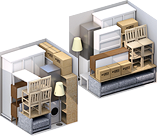 Medium, 3-5 m2
from 33,80 CHF per week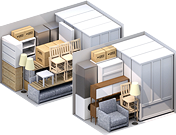 Large, 5-10 m2
from 56,40 CHF per week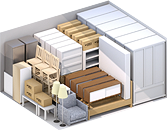 XL, 10-20 m2
from 106,30 CHF per week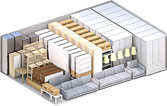 XXL, 20-50 m2
from 220,50 CHF per week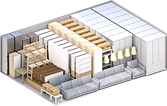 XXXL, >50 m2 currently unavailable
Rental can start at any time. The minimum term is 2 weeks, the remaining term of the lease can be customized to your needs and can be terminated on a weekly basis. We at MyPlace SelfStorage greatly value long-term relationships with our customers and reward the loyalty of our long-term tenants with a discount of -15 % on the annual rent (in case of prepayment).
A detailed list of available warehouse sizes and costs can be found in the next step of our easy booking process.
Directions to Our Storage Facility in Zurich Oerlikon
You can easily reach our location at Vegastrasse 2 by car or via public transport. We recommend taking the following lines:
bus line 781 (stop: Genossensschaftsstrasse)
tram lines 11 or 12 (stop: Fernsehstudio)
If you are transporting your belongings by car or van, we recommend taking the Aubrugg exit (left lane) from Zurich-City and following the ERZ signs at the traffic lights.
Parking problems? Not with us! Park for free directly in front of the Zurich Oerlikon location and load and unload your items at your own pace.
Opening Hours
The MyPlace SelfStorage facility in Zurich Oerlikon is open every day from 06:00 to 22:00.
You can enter the building with your personal access code, which you can set during the booking process.
Our team is available in person, by phone, or via email from Monday to Friday from 08:30 to 17:30, and on Saturdays from 09:00 to 13:00.
Any Questions?
For example, about how to properly store clothing or books? Or about our various additional services? We are here to help and available on-site or by phone. With our storage space calculator, you can also quickly calculate the right unit size for your needs.
Our services in Zürich Oerlikon
Satisfied customers in Zürich Oerlikon
from 173 reviews
guter service, kompetente und freundliche beratung, professionelle abwicklung
Super Service!!! Ich benötigte spontan ein Lagerraum, da der gebuchte Lagerraum (anderes Unternehmen) zu klein war. Frau Graf von MyPlace Oerlikon hat mir sehr schnell einen Top Lagerraum zur Verfügung gestellt. Frau Graf war sehr freundlich, die Abwicklung/Buchung des Lagerraums war sehr einfach und schnell. Ich kann Frau Graf MyPlace Oerlikon mit gutem Gewissen wärmstens empfehlen. Top Service, Einfach Abwicklung, Sehr Freundlich!!! Vielen Dank!
Show all reviews
Further locations near Zürich Oerlikon